I'm working on another version of the previous quilt. For the medallion format, I need 8 of these 4 pointed stars, which will surround an 8 pointed one. I've made two different color versions of the 4 pointed star, and I'm not happy with either of them.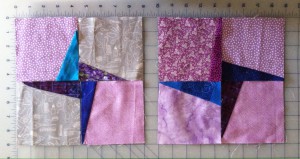 I think the grey background on the left, is not different enough from/ yet not similar enough to the lavender, to work well. I'm not happy with the all lavender one either, because I don't have enough lavender fabrics to choose from. I also think the darker fabric on the upper left is too dark for the other three fabrics.
Please leave a comment if you have a color suggestion for the background fabric. I'm thinking I need to go significantly lighter, or significantly darker.