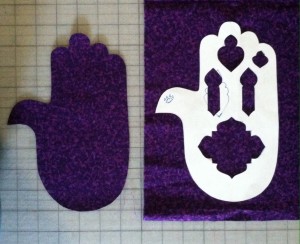 I'm talking to Lehrhaus about teaching a three hour class on making hamsas. It will be in Berkeley in the spring of 2017. Leave me a comment if you want an email as soon as the date is confirmed. Here's my description of the class:
Exploring the Hamsa: A Hands on Workshop
A hamsa, is a stylized hand for protection against the "evil eye," frequently worn as jewelry. Found throughout the Middle East, hamsas are made by both Jews and Muslims but predate either religion. Come learn about the folklore of hamsas and Jewish amulets, as we make them out of paper or fabric. The basics of paper-cutting, a traditional Jewish folk art, will also be taught. No artistic talent is required to make stunning hamsa designs. The finished papercut hamsa can be framed to hang on the wall and a fabric hamsa can become a wall hanging, a challah cover or more.
The hamsa in the photo above is a work in progress. The purple one is fabric, with fusible web on the back. The white one is a piece of scrap paper that I'm figuring out the design on. When I'm done cutting it, I'll trace the design onto the paper side of the fusible web, and cut the fabric with an Exacto knife. This type of hamsa is a "bird hamsa." You can see the eye on the thumb.