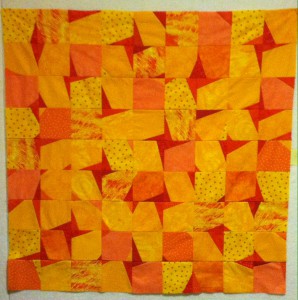 It's now sewn together. It was rather tricky because some squares got turned around, and I had to rip them out and do them over. I started at the top and sewed four-patches, then sewed the four-patches together. But it's nine squares across so each row had an extra square.
I might call it Flying Birds of Paradise. I'm still thinking about names for it. I'm also thinking about how to quilt it.
Here are some detail shots. I love the unexpected yellow triangles.