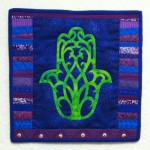 I'm teaching my class Exploring the Hamsa again on July 23 in Berkeley from 10 AM – 1 PM. It will be at the new quilting studio, Hello Stitch. Here is a link to get you to the sign up page https://www.hellostitchstudio.com/product-page/exploring-the-hamsa. Here is what I wrote about the class there:
A hamsa is a stylized hand for protection against the "evil eye," frequently worn as jewelry. Found throughout the Middle East, hamsas are traditionally made by both Jews and Muslims, but predate both religions. Come learn about the folklore of hamsas, as we make them out of paper or fabric. The basics of paper-cutting, a traditional Jewish folk art, will also be taught. The class will also cover techniques to make intricate fabric appliqués with that can be ironed onto a backing.
No artistic talent or sewing is required to make stunning hamsa designs. The finished paper-cut hamsa can be framed to hang on the wall and a fabric hamsa can be a wall hanging or become part of a quilt.
This class is open to adults and children age 10 and up may participate as long as they are accompanied by an adult who is also in the class. Students will be working with exacto knives in the class.
Hello Stitch Studio
1708 University Ave. 
Berkeley , CA 94703
510-982-6549
Please sign up! It will be a lot of fun, with useful information.