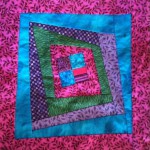 Here we have two wonky log cabin blocks, one which I like, and the other I really don't. The upper one is the one that disturbs me. I made it a couple years ago.  I look at it and think I was trying too hard to be wonky when I made it. Or maybe it's just that I don't like the way the last border of magenta frames it? The lower log cabin feels more successful to me, but I'm having trouble articulating why.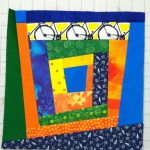 Leave me a comment if you can figure out what's off about the upper one.
This second one is the one I made following Cindy Griselda's instructions, from the video promoting her book, Artful Improv. See my post from September 19th for the link.