The great thing about helping with EBHQ's workshops is that I'm taking classes outside my comfort zone, that I wouldn't ordinarily have signed up for. That's how I found myself spending two days with Nancy Brown, hand appliqueing a portrait of Milkshake, our family's guinea pig. Here is the photo I started from: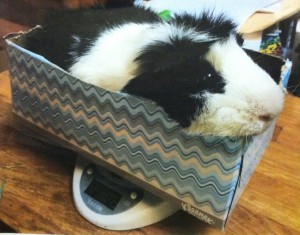 I call this photo, "our curious morning ritual." Almost every morning I weigh Milkshake, before feeding him his daily piece of carrot. Since guinea pigs are prey animals, it's hard to tell when they are sick. (If a guinea pig acts sick or slows down, another animal might eat them). The two ways of telling when a guinea pig is sick is if they won't eat a carrot, and if they are loosing weight. It's also hard to tell if they are loosing weight without weighing them because they're so fluffy. This is Milkshake in a Kleenex box, on top of our kitchen scale.
Here is the applique I spent two days working on. It's still not finished. I need to add a table under the scale, and a background. I think I will use a button as an eye.
In the workshop, someone named Lynn was sitting across the table from me. The perfect black and white marbleized "fur" fabric came from her stash.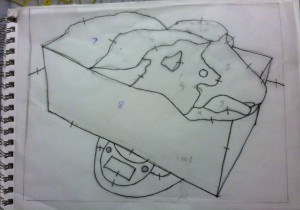 This is tracing paper, with the pattern I drew over my photo. I simplified it as I went along. Some of those pieces were just too small!