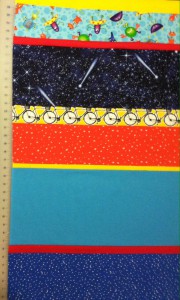 Here is the first set of strata sewn together for the baby quilt I'm working on. I would have made a wider piece, but I was limited by the bicycle fabric. I only have short lengths of it left, from a baby quilt for the older sibling of this baby.
I varied the widths of the layers, trying not to repeat myself. The light blue is the widest, at 10″. The narrowest is the yellow, which is only 1″ wide, i.e. half an inch, when sewn.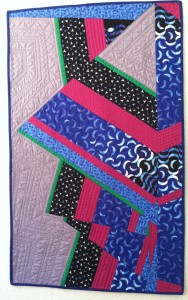 Here is a quilt with the same technique. I took the strata, and cut slices at various angles, and sewed them back together. I shifted the strips around before I sewed them back together.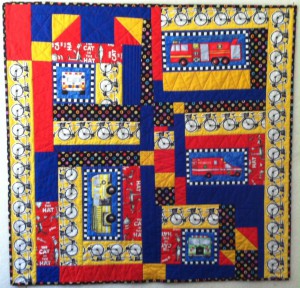 Here is the baby quilt I made previously, using the bicycle fabric. Each time I cut a strip of it, I had to cut through the bicycles above and below it, so that there would be a little yellow margin above and below it. That's why there isn't much left of this fabric.