I gave up ironing the silk. I took it to HelloStitch and used their serger to hem it. The serger is a fancy sewing machine that cuts off the edge and sews sort of a blanket stitch around the edge. This is frequently used for sewing t-shirts or jersey cloth.
In other news, I'm teaching a Wonky Log Cabin class this Sunday, Feb. 3, at HelloStitch from 10 AM- 1 PM. There are 2 spots left in the class.
WONKY LOG CABIN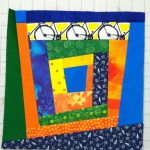 Whether or not you know how to make a traditional log cabin block, come join Claire and learn how to make a wonky/improvisational one! Learn a little about improvisational quilt design as we look at our log cabin blocks. It's amazing what you can make with left over strips of fabric. This is a great way to use your scraps. The class is a process class. However, Claire will discuss how to turn these sample log cabin blocks into a quilt. This class is appropriate for beginners on up.