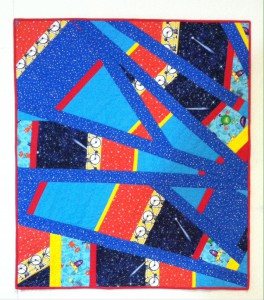 I stayed up until the early hours of the morning two nights in a row to finish this baby quilt. Then I took BART to San Francisco to hand it to the grandma who commissioned it for her new grandson in Israel. She was getting on a plane later that day and didn't have time to come to Berkeley to pick it up. We stood there in the Powell St station, while I showed her the quilt, and sent it on its way. This is my first quilt finished in 2019!
The yellow bicycle fabric is left over from the quilt I made two years ago for her first grandchild. I hear that the grandkids' parents are avid cyclists. Here is the back of the quilt: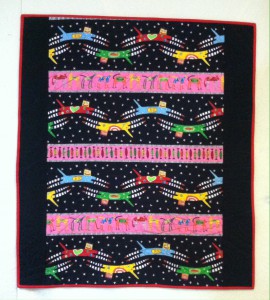 I have had this fabric in my stash for a long time, and I don't remember buying it. I think it probably came from my mother's stash, which I inherited. Here's a detail of the quilting. I used a zigzag on my machine that had 3 stitches for every zig, and a curvy line. I used my walking foot for all the quilting.