I started thinking about this quilt last Monday. I started working on it on Wednesday, and I finished the binding this morning at 1 AM. I'm not quite done yet. I might sew on some beads. I need to ship the quilt Tuesday morning.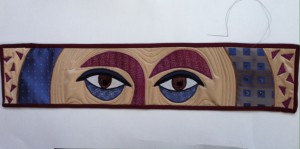 Here's a detail of the beading I'm in the process of doing. The photo is rotated wrong, but I kept trying to fix it, and my computer wouldn't let me because the file was supposedly open somewhere else.
I plan to ship this quilt to Virginia tomorrow, so any beading I do needs to be done by noon tomorrow.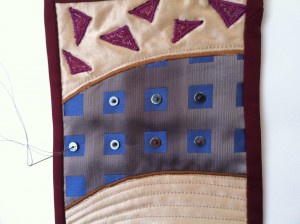 Ok. It's after midnight and I'm going to bed now. Here's a final photo:

And here's a detail of one eye and the beading: