As the EBHQ board member in charge of workshops it is my responsibility to organize and make a group quilt for the outgoing president every year. Since I did this last year, the responsibility shouldn't have snuck up on me this year, but it did. Somehow I found 13 quilters to each make two blocks for this quilt. Orna (my co- workshop person) and I designed a quilt that incorporates the things that Janet, the outgoing president likes. As of today the quilt is done!! Joan quilted it and Edy sewed on the binding. It's actually a two sided quilt- Joan had made a donation quilt that was the right size once I added a strip to one side.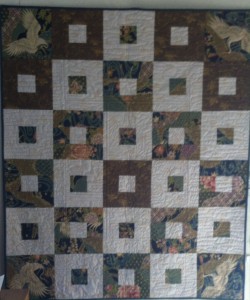 Above is the front, and below is the back.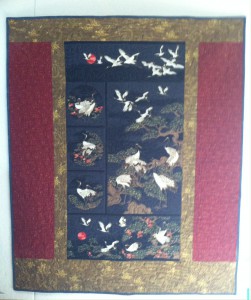 Here's a detail of the blocks on the front.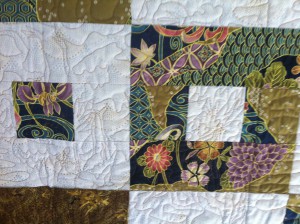 Before starting to design this quilt with Orna, I made a list of the things Janet likes in a quilt: Fall colors, muted colors, rust, olive, brown, maroon, indigo, Asian fabric, traditional quilt blocks, not improv. As you might notice, there's not much we have in common except for liking Asian fabrics and indigo.
I gave the quilt to Janet tonight at the EBHQ educational session, so it's not a secret anymore.