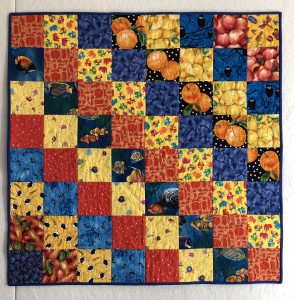 I just finished this baby quilt for a neighbor who's having a baby shower next weekend. She asked for orange, yellow and blue. I picked fabrics that had an interesting image in those colors. This quilt actually has 15 different fabrics! It's a little quirky, with carrots, fish, lemons, snails and peaches in it. It's certainly not an art quilt, but it was fun to make. I wanted it to be fast and easy. I cut out most of the squares at Hello Stitch, with their CriCut machine. I had to fussy cut the oranges and fish, so I did that by hand with a ruler.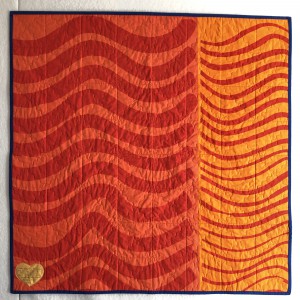 Here's the back. It's Marimekko. I don't remember how I got this fabric. Maybe June gave it to me? I think Carrie (the mom of the baby) will like the back since it's so orange.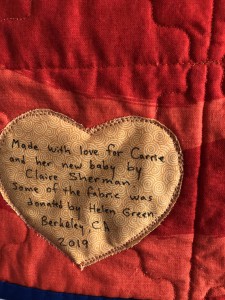 Here's the label. Helen Green is a neighbor who quilts. She's about 82 years old. At the neighborhood potluck, when Carrie announced her pregnancy, i offered to make Carrie a quilt. Helen also offered, so Carrie suggested that Helen help me. Helen offered to help me hand quilt the baby quilt! I said I had no intention of hand quilting it, but that Helen could help me sew on the binding. When I was collecting blue, orange and yellow fabrics for the front, Helen let me raid her stash. The fish, oranges, butterflies and kokopelis come from Helen. Unfortunately Helen fell and broke her hand, so she wasn't able to help me sew the binding on. The up side is that she didn't break her hip.