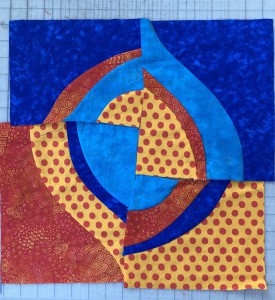 This is the beginning of a new quilt, called a lone robin. It's an idea from my friend, Julia McLeod, who is in charge of the block of the month for the San Francisco Quilters Guild. She couldn't figure out a way to do block of the month during Covid, without people having to mail quilt blocks back and forth. So, everyone is going to work on their own quilt, with a monthly prompt, from Julia. May's prompt was curves or circles. So, above is my first block, which hasn't been sewn together yet. The next rounds can be added as borders, like a traditional round robin, but could also be more improvisational, and just be added to one side, or more than one side.
Now that I'm looking at it on the screen, I'm not so sure about the layout. Maybe it's better like this, below? I have 4 small rectangular blocks and 4 larger ones to experiment with. They are samples from the last time I taught circular rectangles at Hello Stitch.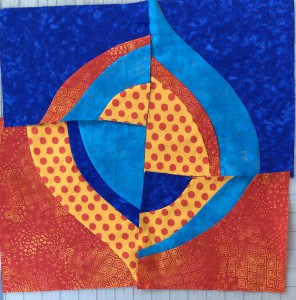 Here's what Julia says about the process, so that I can refer back to it.
Let me introduce you to a new quilting game I like to call the Lone Robin! It's part progressive quilt, part mystery quilt, and will be a whole lot of fun when we compare quilts at the end of it! We'll do this for six months: Each month we'll complete a stage of our quilt, following that month's instructions. For those of you with traditional tastes, this will likely mean you make a medallion quilt, building the quilt by adding a new round each month. For the rule-bending modern/art quilters you can choose to add any kind of compositional element—one strip, one chunk—that follows that month's brief. We'll all be following the same basic recipe because we'll all add the same components in the same sequence, but there are no rules about color choices, dimensions, or placement. You can choose how much detail you want to put into this quilt. A plain border with one single motif-of-the-month still qualifies! Instructions will be released May through October via our newsletter, E-Blast, and Facebook page. November will be a "catch up" month and December will be the big reveal! Here's our starting point for the month of May: Your first element must be something that involves curves or a circle. Go for a paper-pieced block, cut your curves free-hand, appliqué something circular, or even feature a face! This first block can be any size or shape. It's up to you. Have fun, Lone Robins!