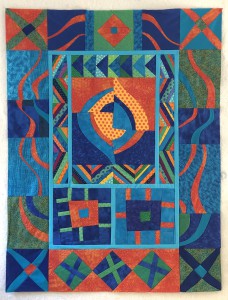 I took apart the top row and redid it. I knew that every time I looked at it it would bother me. Below is the previous version. Deadlines are my friend! January 1st was the deadline for EBHQ.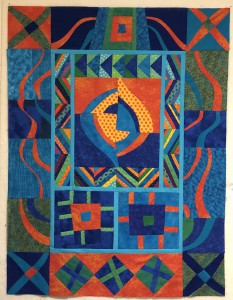 What's somewhat ironic is that the version right above which bothers me, won first place at the SFQG among 25 other Lone Robin quilts. I won a $50 gift certificate to Bay Quilts! Everyone at the Zoom meeting got to vote for their favorite. On the first vote, three of us  got 9 votes each. Then there was a runoff vote and I won!! This is my first quilt to win a prize as EBHQ doesn't give prizes at our show.
Below are all the rounds of the Lone Robin from the SFQG website, with the 6th one first, and going down to the first one.
Nov 2nd Element: Your final round is…wait for it!… YOUR CHOICE! (with one condition). Add anything you like – plain, fancy, wide or skinny, patterned or solid. You get it – anything you like to wrap up your quilt design to your satisfaction. Maybe there's enough compositional drama already and all you need is a plain border to complete your quilt. Or perhaps it's time to create a dazzling final element. I leave it to you. The one condition is that in this final border, you must use one of the colors that appears in your first curved/circles block.
Oct 5th Element: Your fifth element must include crosses or Xs. They can be
 regular or wonky! This could be the moment where you cut your entire piece into quarters and put a cross through the middle of it. Or maybe you'll make some miniature "x" blocks and scatter them in the corners of your quilt. You could combine crosses with another motif of your choosing. It's your choice, Lone Robins!
Sept 7th Element: Your fourth element must include squares. They can be neatly square, or loose quadrilaterals, big blocks or tiny checkerboards. The squares can be pieced, printed, appliquéd, embroidered – you decide! They can be evenly arranged or just feature in a few small areas. You could combine them with another motif of your choosing. Use your imagination!
Aug 10th Element:  Your third element must include strips or stripes. You could piece your stripes or use a stripy fabric. They can be straight or wavy, chunky or pencil-thin. The stripes can be evenly distributed or just appear in a few small areas. The possibilities are endless!  
July 2nd Element:  Your second element must include flying geese that connect to the 1st element in some way — you decide how. You can paper piece them, foundation piece them, stretch them out so they're skinny and long or wide and flat. They can follow the shape of a circle or wind randomly. You can make a string of ten on each side, or just include two or three randomly. The variations are endless!
June 1st Element: Your first element must be something that involves curves or a circle. Go for a paper-pieced block, cut your curves free-hand, appliqué something circular, or even feature a face!  Your first block can be any size or shape. It's up to you. Have fun, Lone Robins!