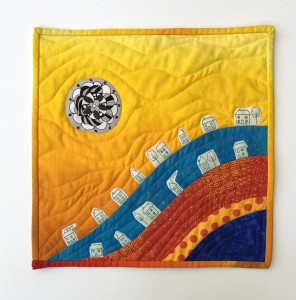 I never posted about this small 12″ x 12″ quilt which has now traveled to Sacramento and back. Here's what SAQA and the Blueline Gallery said about the show:
This Showcase will exhibit work inspired as a result of the pandemic. While quarantined or sheltering at home, artists have grappled (and continue to grapple) with social distancing, isolation, loss and grief. How do artists express their emotions during this period? Does a slower pace of life afford opportunities for more intense creative expression? Artists in Residence will explore this subject.
Here's what I wrote about my quilt:
September 9, 2020 was the day that the sky turned orange-yellow due to smoke from forest fires. It was so dark that it felt like twilight all day. In this piece the houses aren't side by side, but socially distanced, representing all of us sheltering in place. We are in our separate homes, but not alone since we are connected through the internet. Instead of the sun, which couldn't be seen on September 9, I placed a flower that looks like a Corona Virus.