While I was in Asheville visiting my sister, I taught a paper-cut hamsa class at Congregation Beth Israel. Here are some of the students' work.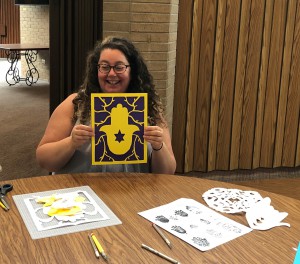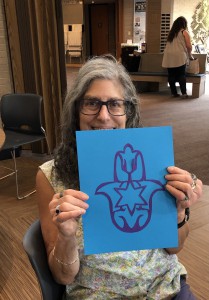 The next two are from students who didn't want their faces photographed.
Here's the description of the class:
Paper-cut Hamsa Workshop
A hamsa is a stylized hand for protection against the "evil eye," frequently worn as jewelry. Made by both Jews and Muslims, hamsas are found all over the Middle East, but are older than either religion. Come learn about the folklore of hamsas, as we make them out of paper. Learn the basics of paper-cutting, a traditional Jewish folk art. We will cut out our hamsas with scissors, and/or Exacto knives for accuracy, then glue them to a background. No artistic talent is required to make stunning hamsa designs. The finished paper-cut hamsa can be framed, to hang on the wall.
The workshop lasts for two hours. Materials fee of $5 to the instructor.