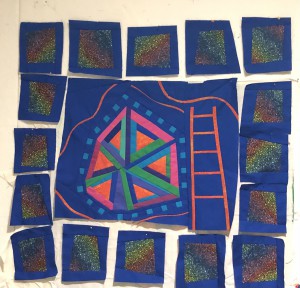 The fifth element for the Lone Robin is "gradations." While I was visiting my sister in North Carolina, I visited 2 fabric stores. I bought about 8 different fabrics, all of which had some kind of gradation. I had no idea if any of them would work for my Lone Robin. When I got home and auditioned the fabrics, one of them worked perfectly! I cut it into wonky squares and parallelograms, and framed each one with the blue fabric that is a constant in this quilt. When I looked at it on the design wall, I felt that the transition was too abrupt on the bottom. I made three different attempts at a strip to place there.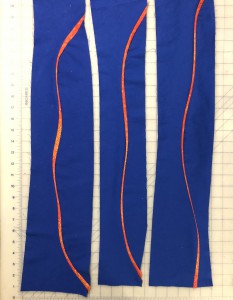 Luckily, the third one worked! (I had also added another curve to the top of the ladder).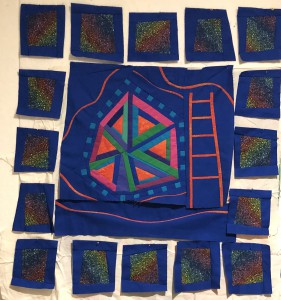 I'm starting to work on striped coping strips between these wonky squares. The white between them is just the design wall showing through.