This is a photo of the east wall at St Albans. I hung two mizrachs there!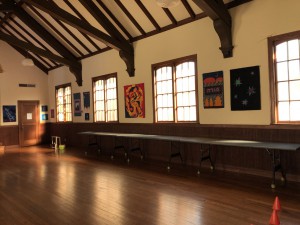 I have a solo quilt show up at St Albans Church! There are 47 quilts, from 12″ x 12″ to large wall quilts, all by me!
It's at 1501 Washington Ave. Albany, CA. The show is up from December 3 through February 28. Open during the church administrator's hours, Monday through Thursday from 9 AM- 2 PM. However, Pamela, 
the church administrator, isn't always there during her hours. Sometimes she works from home. I recommend phoning or emailing the day before to make sure she will be there to unlock the door. The church phone number is 510-525-1716. Pamela's email is info@st_albans_albany.org. Also, you are invited to my reception on Sunday January 8 from 3-5 PM. I'd love to see you there!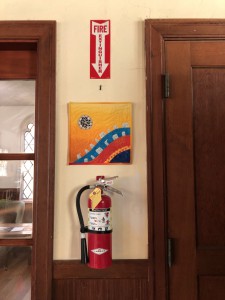 I hung this 12″ x 12″ quilt in this spot because it was small and because it went well with all the red on that wall. After hanging it, I realized that I'd just hung my quilt about September 9th when the sky was so smoke-filled that it was dark all day, above the fire extinguisher!