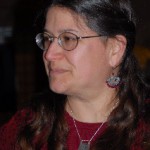 Claire Sherman is a quilt maker, paper-cut artist, and ceramic sculptor.
Inspired by a neighbor's Victorian crazy quilt, I started my first quilt at age 13. There were no quilters in my family, so I taught myself, making it up as I went along. Improvisational quilting is still my favorite method of quilt design. It took me 5 years to make that first quilt. I finished it just in time to take it with me to the Rhode Island School of Design. Four intense years later, I graduated with a BFA in ceramics. Then I created and sold ceramic Judaica for about 20 years. During a hiatus from ceramics due to life and motherhood, I rediscovered my love of quilting. I live in the San Francisco/ Bay Area with my architect husband and have two artistically talented offspring who are now independent adults.
Claire is a current board member of East Bay Heritage Quilters, a member of Studio Art Quilt Associates,  a member of the San Francisco Quilt Guild, a member of East Bay Modern Quilters, a member of the online LibQuilters, and a member of the Quilt Group With No Name.
Photo credit: Lea Delson