Circular Rectangles is the kind of quilt where you keep making units, without firm ideas about how to sew them together, and put them on a design wall. The blocks don't get sewn together until the whole quilt is on the wall, and you've stopped rearranging it. I chose not to square up blocks or make them all the same size in this quilt. Some of the edges are curved rather than straight. Some blocks are square, some are rectangular, and some edges are slightly rounded. This makes it more challenging to sew together.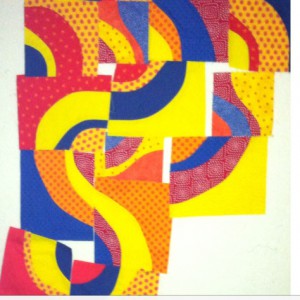 Here's the first process photo, above.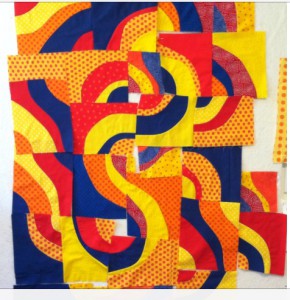 Here's the second. Note the little white rectangular holes in the design. With this quilt I decided to embrace "partial seam construction." I ended up with 3 holes where I needed to sew in a rectangle with partial seam construction.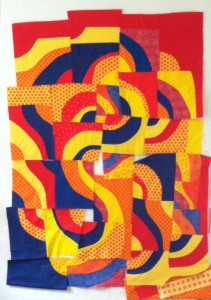 Here I was working on adding the red to the upper corner, and the blue to the lower corner. I really liked the fabric with the polka dots on the bottom right, but it never made it into the quilt. In the finished quilt, the lower left corner is my favorite part of the quilt. I like the way the edge of the piecing interacts with the blue negative space next to it.