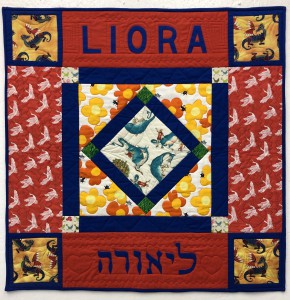 I'm really happy to have finished this quilt in time to take it to the EBHQ meeting which was the Monday before Thanksgiving. It's always good to have a deadline. And Liora is only a month old, so I'm quite pleased. Especially since her parents weren't public about what her name was until her baby naming at 8 days old. A week or two before she was born, I brought a pile of about 30 fabrics to her parents for some weeding. These were the 30 fabrics in my stash that had animals on them. I knew her parents loved animals. They whittled it down to 11 favorites and about 10 maybes. I managed to use 5 different animal fabrics on the front, and 5 more on the back, plus a green fabric with computer circuits. (Both her parents are computer techies). Here's the back: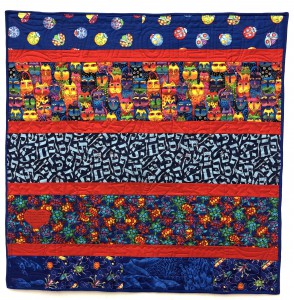 And here's the label: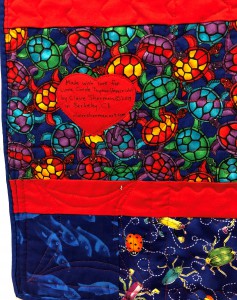 The letters on the front are backed with fusible web, then I zigzaged around each letter with a matching thread. I will deliver this quilt tomorrow morning.