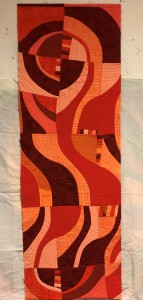 Here is my orange quilt, quilted both before and after I sewed the binding on.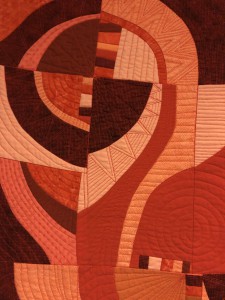 Here are the 150 words I wrote about the inspiration for the piece & how it reflects my interpretation of the show's concept:
Orange Meanderings
Orange is an inspiring color for me. I use a lot of orange in my quilts, but it was a surprise that orange can include brown. I created blocks I call circular rectangles. I manipulated the blocks on my design wall until I settled on an overall design. I enjoy piecing improvisational curves; however, this was the first time I've attempted it with only one color. Choosing a full range of oranges from dark orange brown to pale salmon was the key to making a dynamic monochromatic quilt. Texture is also important. I used both solid color and printed fabrics for more visual texture. The different quilting within each change of color adds definition to the meanderings of the curves.
50 words about the techniques in Orange:
For circular rectangle blocks, I cut four colors of fabric into same sized rectangles. I cut three curves into the stack, without marking. Then I shuffle the stacks of fabric and sew them together. This makes 4 blocks, each with all 4 of the colors.
I did all of the quilting with a walking foot.