I'm running behind in this year's Lone Robin. However, I worked on it for a few days, and now I'm working on the current  prompt.
Julia created the Lone Robin for the SF Quilt Guild. With her permission, I'm running it for EBHQ. Here's all the info on it from Julia McLeod. My photos are below this introduction.
The first Lone Robin Challenge was devised in 2020 to entertain members of the San Francisco Quilters Guild during the Covid 19 pandemic. The 2021 (second) Lone Robin Challenge runs for 6 months – February thru July 2021. August is a catch-up month.
Part mystery quilt, part Round Robin, quilters are given monthly prompts and very few rules to make a quilt of their own. Month by month, round by round, we build our quilts alone in the safety of our own sewing rooms.
The Lone Robin Challenge can be responded to in many ways – with traditional quilt blocks, modern motifs, skillful fabric choices, appliqué or embroidery. Use a motif once or repeat it multiple times; play with contrasting scale, color and contrast. Each round can be any size. Your finished quilt top can be any dimension.
There is only one firm rule: Each month's work must attach to the previous month's piece. For example: what you create for March should attach in some way – even if only on one side or in one small area – to what you made in February. Traditional quilters can build a medallion quilt where each round clearly follows on from the one before. Modern, art and improv quilters can create any kind of composition but we should be able to see where the first component/motif is followed by the second and so forth.
The first prompt for the month of February 2021, for your central block or first section is POINTS. A star, a windmill, pinwheels, zig zags or thorns all fit this theme; any 'pointy' motif or pattern. Your starting 'POINTS' block could be as tiny as 2" square. There are no rules about dimensions.
The second prompt for the month of March 2021 is STRIP PIECING. Create a border, a strip, a large panel or a tiny block that uses the technique of strip piecing. You may end up with stripes, piano keys, squares or a checkerboard. This is an efficient technique which ever way you slice it!
Prompt number three for the month of April 2021 is ORGANIC. Now that spring is here, think vines, leaves, blossoms and blooms – or even water and waves. Anything with curves rather than right-angles. Set aside your ruler this month and let this round unfold organically. Remember, each round can be as large or as small as you like. Go for a traditional medallion or just make a panel to attach to whatever you've made so far. I find the challenge of this exercise is to respond to what you've already made. And to do this knowing you have no idea what comes next. Even if you're making a traditional-looking quilt, this is really an adventure in improvisation. Have fun!
Our Fourth Lone Robin prompt is ROADS, PATHS, LADDERS AND STEPS. This sends me to my old-school quilting block books. I love names of traditional blocks that reference movement and journeys. Jinny Beyer's 1979 book 'Patchwork Patterns' is timeless. For those non-traditional quilters, just use this cue as inspiration. Your next round should show us your chosen route, however you take it.
This is prompt #1 Points.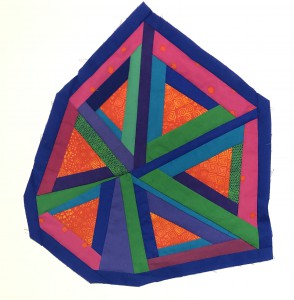 Prompt #2 Strip Piecing.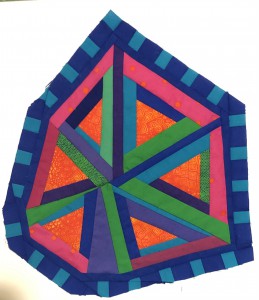 Here are some process phots of Prompt #3 Organic.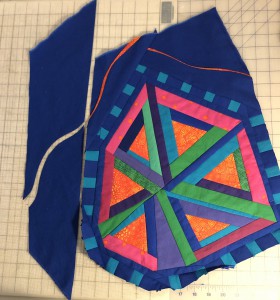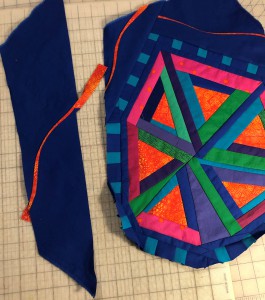 Prompt #3 finished.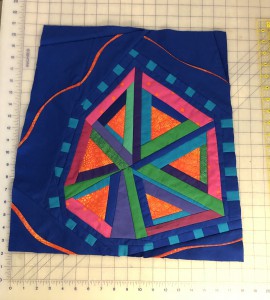 I deliberately left the right side empty. I'm planning on adding a ladder in orange on blue to that side for prompt #4. I don't know what prompt #5 is yet, but I can add it just to the top edge, just to the bottom edge, or to both top and bottom.
#EBHQlonerobinquilt